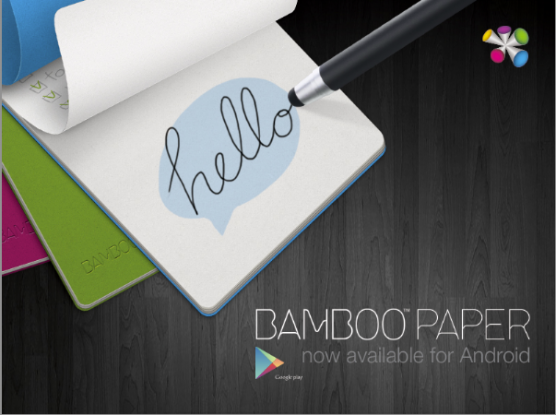 One of the best handwriting applications, Bamboo paper, is now available on Google play. With the launch of Bamboo Paper for Android, Wacom continues its success story, giving Android users a completely new and exciting pen & paper feeling on a Smartphone.
As of today, more than 4 million iPad users already enjoy the digital notebook qualities of Bamboo Paper. Following this success, Wacom has launched Bamboo Paper for Android – a free digital notebook app that allows users to create and share handwritten notes, sketches and doodles on mobile devices. Bamboo Paper makes using Bamboo Stylus or any stylus that come with smartphones much more fun, allowing creativity to take place on the move. The app is initially available for the Samsung Galaxy Note I/I*I and the Galaxy SIII* with more devices to be added at a later date. Note taking, sketching and doodling has never been easier and more intuitive on an Android device.
Bamboo Paper continues to push Wacom's Bamboo brand mission forward, offering visual thinkers a way to construct and share ideas digitally. It provides an interface that is natural, fun and easy to use. Being one of the first Apps by Wacom, Bamboo Paper adds a new element to the existing range of input devices (Bamboo Stylus range and Bamboo pen tablets) and gives users a very natural "pen & paper" experience.
As with all Bamboo products by Wacom, Bamboo Paper takes advantage of Wacom's experience and expertise in pen-based input by offering a natural and realistic writing and sketching tool. Ideas become much more lively by writing them in an authentic paper mode, enjoying realistic, pressure sensitive inking and a fluid interface to make quick notes, sketches or drawings. When used in conjunction with a Bamboo Stylus, Android users will now get a realistic pen & paper feeling.
Bamboo Paper for Android is available from today as a free download in Google play and will be available in the Samsung Apps stores this week. Download the Bamboo Paper app here: bamboopaper.wacom.com/download
Don't forget to joined our community on Facebook, Twitter, and YouTube. Thanks