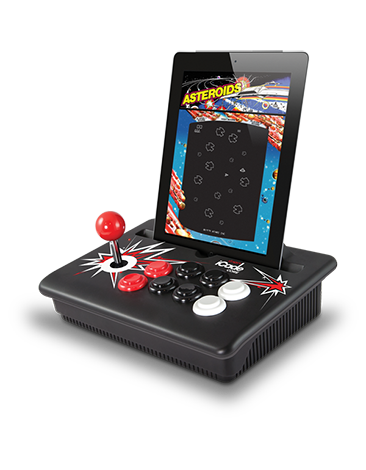 ION Audio, introduces iCade Core, a compact desktop game controller for iPad, iPhone or iPod touch. Attendees can see iCade Core for the first time at booth #12442 during the Consumer Electronics Show taking place Jan. 10–13, 2012 in Las Vegas, NV.
iCade Core is a streamlined version of ION's acclaimed iCade arcade cabinet that equips the iPad with authentic, arcade-style joystick and buttons that are ready for fierce non-stop gaming. iCade Core allows iPad users to challenge their friends, throw retro-gaming parties and achieve their highest scores yet. iCade Core offers an incredible arcade experience, bringing all the fun of classic arcade gaming to the iPad in a compact form factor.
iCade Core's specially designed cradle ensures safe loading and unloading of a user's iPad, while also providing a solid, secure fit for even the most intense gameplay sessions. Beneath the cradle is a custom-designed pass-thru slot, which allows users to charge the iPad with their standard 30-pin cable. The cradle also swivels to allow either portrait or landscape so that orientation is never a problem. iCade Core's top-quality arcade controls quickly connect to the iPad using Bluetooth wireless technology. Once the iPad is in place, simply launch any compatible app and it's game-on.
iCade Core is compatible with great classic games including PAC-MAN, Asteroids, Centipede, and Battlezone. Plus, it's compatible with tons of modern games, over 200 games in all. Users can take control of iCade Core's full-sized joystick and smash its eight arcade buttons for complete command of their favorite games. This truly unique game-controller provides hours of nonstop gaming action.
iCade Core retains the action-packed excitement of real arcade-style control from the original iCade, while being incredibly easy to take just about anywhere. "iCade Core is just about the most fun you can have with an iPad, iPhone or iPod touch." Fred Galpern, Brand Manager, ION Audio
iCade Core will be available in retailers in 2012.
For more information on the iCade Core please visit http://www.ionaudio.com
Don't forget to joined our community on Facebook, Twitter, and YouTube. Thanks